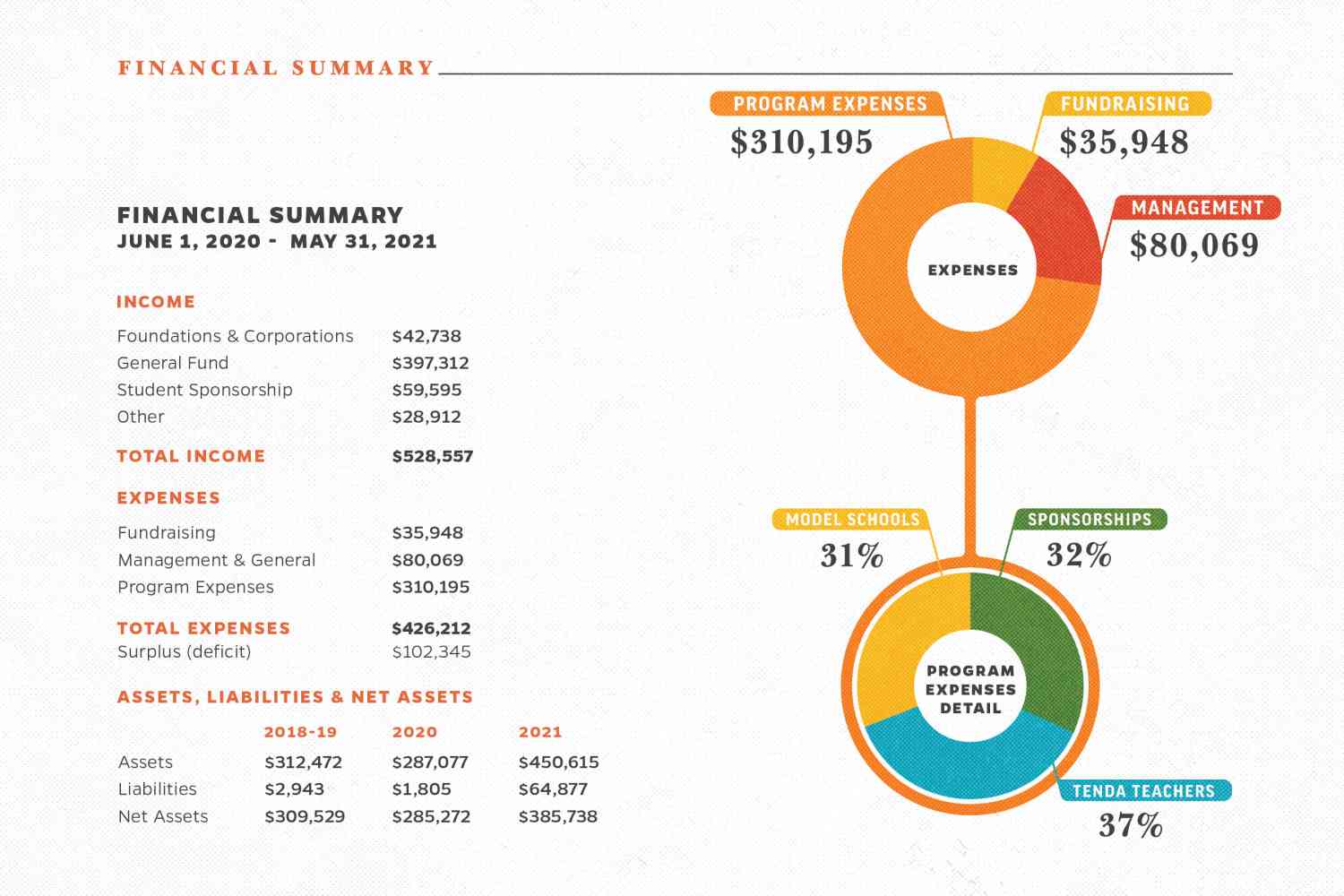 Annual Reports
Our annual reports highlight our program achievements, summarize our financials, and recognize the generosity of supporters and volunteers.  
IRS Forms 990
Project Zawadi prides itself on using donations in the most efficient and effective way possible. Project Zawadi is committed to transparency in all aspects of operations and to honoring the donor rights outlined in our donor relations policy. We encourage you to review our financial statements and to contact us directly at info@projectzawadi.org for additional information.
FY2021 - 990 Form*
FY2020 - 990 Form
FY2019 - 990 Form
2018 - 990 Form (partial, new June-May fiscal year (FY) adopted)
2017 - 990 Form
2016 - 990 Form
2015 - 990 Form
2014 - 990 Form
2013 - 990 Form
2012 - 990 Form
*Charity Navigator statement (December 17, 2021): At this time, Project Zawadi has a failing grade with Charity Navigator. There is one small error on our FY2021 990 IRS return. Although we did indicate the number of Board Members, we failed to indicate how many of them are independent. (All of them are independent.) Therefore, Charity Navigator's automated rating system assumed that we have no independent board members and deducted more than 30 points from our score. Were it not for this one error, our score would be a perfect 100. Unfortunately, their system and procedures do not allow for any corrections or amendments for organizations with budgets under $1,000,000 (one million dollars annually). Although we have appealed to them on multiple occasions to amend, they have refused. We have no choice but to wait until March 2022 when the corrected and updated 990 IRS return will be recognized by Charity Navigator's automated system.
We are currently rated at the highest possible level of Platinum on Guidestar.