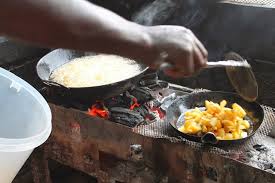 UPDATE: CHALLENGE COMPLETED!
In 2014, the Vocational Training Centre opened its doors to boarding students, providing a safe environment for students to pursue their studies. A kitchen, dining area, water collection system and food storage are urgently needed to provide clean, safe meals. Please consider a secondary gift towards the Chakula Challenge this year (Chakula means "food" in Swahili).
Project Description:  To address these needs at the VTC, Project Zawadi is underataking a special fundraising initiative dubbed the Chakula Challenge (chakula means food in Swahili).
The Chakula Challenge will fund the construction of an instructional kitchen, dining room, food storage rooms and rainwater collection and storage system.
Instructional kitchen and food storage:  This will be used not only to prepare daily meals for the students, but will also create an opportunity to expand the VTC course offerings to include food preparation and cookery.
Dining Hall:  In addition to providing a year-round location for taking meals, the dining hall will also be able to be used as a study hall and gathering space for students.
Rainwater collection system:  The rainwater collection system will collect rainwater from the facilities roofs during the rainy season and store it in underground tanks for use the rest of the year, providing a reliable source of water on-site at the VTC.
Click here for full project details: Chakula Challenge 2014.
Question? Email Shannon Skally at shannon@projectzawadi.org.
Chakula Challenge Completed!

Thank you to our Lead Donors!

"Kaete's Kitchen" will begin construction shortly.

Platinum: Fred Binter, Sandra and Peter Williams
Gold: The Benroeck Family including matching funds from Microsoft, Mike and Paula Champion, Clayton and Janice Kooiker
Silver: Bruce and Jackie Erickson
Bronze: Roger and Maureen Osborne