Clean Water & COVID-19 – We Need Your Help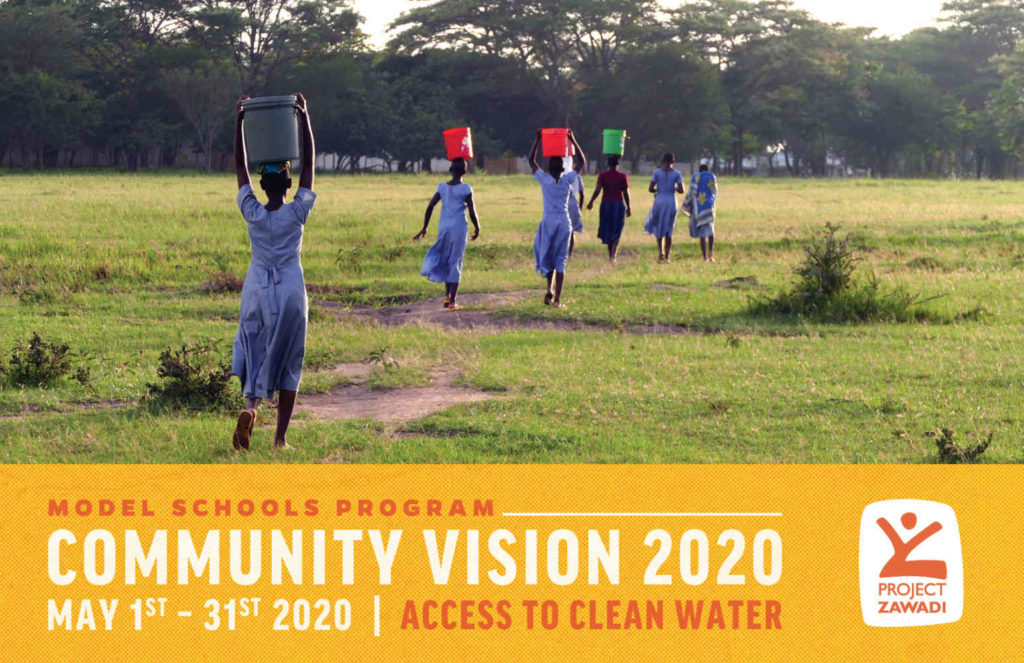 I'm writing today to share important updates about the work we are doing to address the Covid-19 pandemic in Tanzania. Like so many of you, we are learning to work remotely to connect with and support one another. We are also rapidly developing and implementing short- and long-term solutions to the many challenges our communities are facing.
Every year we work with the Model Schools communities to choose and implement one high-impact project through the Community Vision Campaign. This year, our top priority was to increase access to clean water. More than 10,000 people in the villages served by the four Model Schools rely on water that is carried from far away one bucket at a time. The Covid-19 pandemic has shown us that the need for clean water is more pressing than ever.
As you can imagine, we had to adapt overnight to begin implementing Covid-19 rapid response projects. Our staff are assisting with public health outreach by promoting social distancing and hand-washing with strategically placed infographics. In each of our schools and communities, access to water remains a major challenge, so we are also installing temporary hand-washing stations where they are needed most.  Furthermore, our sewing apprentices are making face masks for distribution at the weekly market.
The Community Vision Campaign's priority to build water systems is a necessary response to the current crisis because Tanzania is a country where most students don't even have access to water for drinking — let alone washing their hands — during the school day. 
Collecting water is a labor-intensive and time-consuming process, and often that water isn't clean enough for drinking. In addition, it's most often women and girls who are tasked with fetching water, taking precious time away from their education and other important goals. Your support of Project Zawadi's 2020 Community Vision Campaign will change that.
We are developing long-term site-specific water solutions at each Model School. By providing water, each school will be a place of healthy, uninterrupted learning and development for all students. Your support will provide drinking clean water and hand washing for the students and communities for years to come.
Our fundraising goal for the 2020 Community Vision Campaign: Access to Clean Water is $50,000.  We are honored to have a group of donors pledge to MATCH ALL DONATIONS to this campaign 1:1 up to $25,000. Your donation of $100 becomes $200, or $1,000 becomes $2,000!
Thank you for your generosity during this difficult time. As a global community it is more apparent than ever how our well-being is connected to the well-being of people around the world. Our commitment to our friends in Tanzania has never been more important. Your opportunity to make an impact has never been more powerful. Together, we will make the world a safer, healthier place.
Sincerely,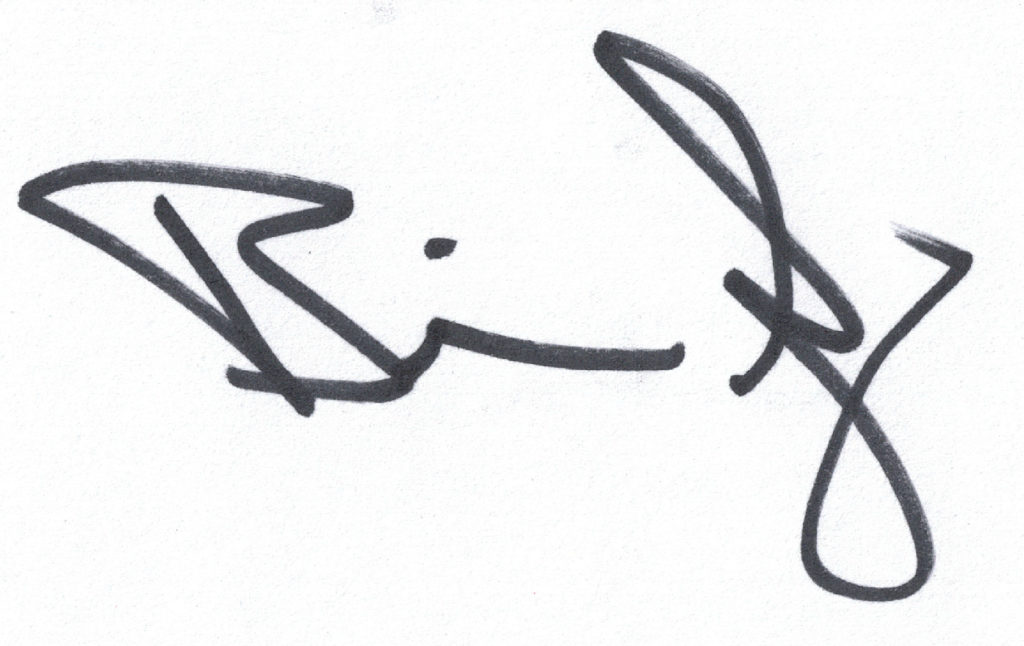 Brian Singer, Executive Director
PS: Please act soon to double your donation. The campaign ends May 31st.
PPS: To donate by mail click here: Project Zawadi Mail Donation Form May 2020.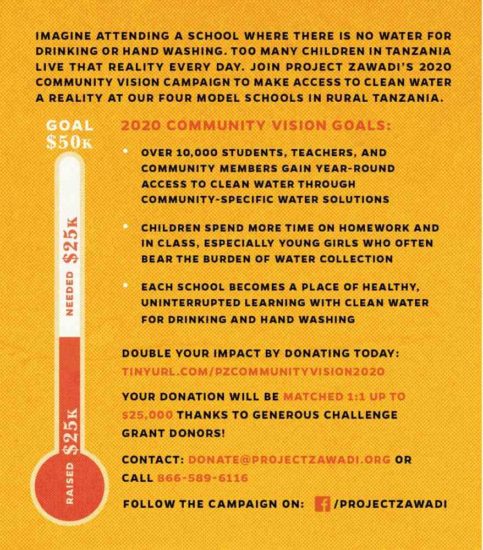 A Project Zawadi's hand washing station in action – designed by our welding instructor.