Community Vision Campaign Success!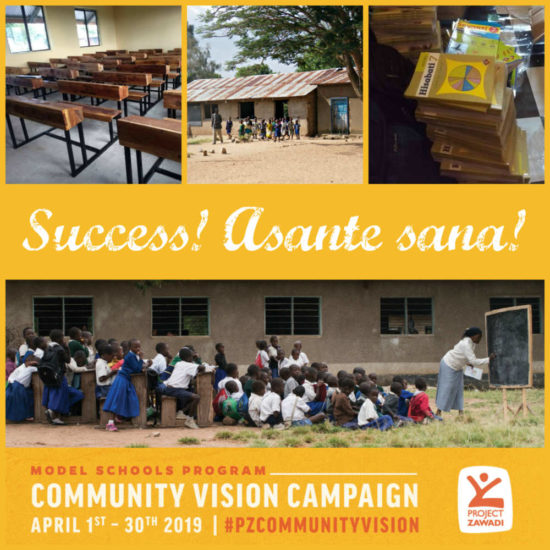 The Project Zawadi Community Vision Campaign was not only about what the local communities of Sarawe and Busore Primary Schools wanted for their students, it was about what we as a community could do to support their vision.
As always, we are humbled by the generous supporters and advocates of Project Zawadi who make our work in Tanzania possible.
When we tallied our donations and pledges as of April 30th, we had reached $21,000! While a bit shy of our goal of $30,000, we were and remain truly grateful to everyone who helped us achieve this success.
However, on April 30th we had a call from one of our long-time sponsors, Harold and Carol White, who offered to fill our fundraising gap for the campaign. We were humbled and thrilled all at once. The Whites have been sponsors for 10 years – a level of commitment worth celebrating in and of itself. We cannot thank the Whites enough for this extraordinary act of generosity. Asante sana!
We would like to take this time to acknowledge the lead donors of the Community Vision Campaign:
$5,000 and above
Harold & Carol White
Casstaway Charitable Foundation
Clayton & Jan Kooiker
$1,000-$4,999
Carol Macherey Charitable Fund
James & Susan Males
Malcolm & Mary Morris
Paul & Prentice Sack
Brian Singer & Karen Stupic
Scott D Weiner Family Trust
We are now actively implementing the Community Vision Campaign's work plans at Sarawe and Busore Primary Schools and look forward to giving you all updates this summer.