#TeamProjectZawadi: a benefit run by Access 2 Tanzania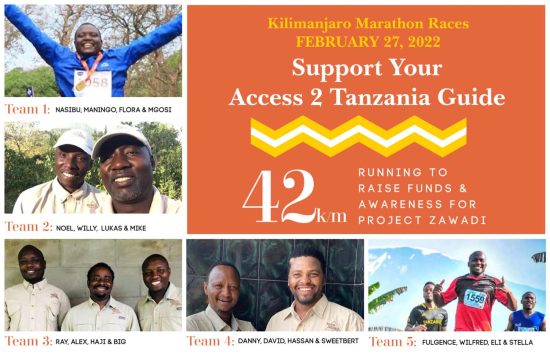 The Access 2 Tanzania guides and staff are helping raise awareness and funds for Project Zawadi's mission. They will participate in Kilimanjaro Marathon Races on February 27, 2022. There are various distances being run on this day and each #TeamProjectZawadi runner will pick their race (5km, 21.1km, or 42.2km).
They have decided to set a goal of raising $42,000 for the 42 km of the marathon. There are five teams, each with runners* and cheerers.  Become part of #TeamProjectZawadi by cheering them on and contributing to help them meet their collective goal.
If you have previously traveled with Access 2 Tanzania, it will mean so much to the guides to have your support. The generosity of Access 2 Tanzania guests has seen the guides through the pandemic. This fundraising event is a way for them to pay it forward to Project Zawadi.
Each team will be competing to win cash prizes (and teams could  win more than one category). Prize money has been underwritten by Access 2 Tanzania and will not impact donations to Project Zawadi.
---
MOST MONEY RAISED

MOST DONORS

MOST NEW OR RENEWED* DONORS (*have not given since 2019)
GRAND PRIZE FOR ALL TEAM MEMBERS IF WE RAISE OVER $50,000!
To donate to a particular team, you can click on the team number and you will be directed to their specific fundraiser page.
TEAM #1: Nasibu Kiariro*, Maningo Charokiwa, Flora Mallah and Mgosi Husein*
TEAM #2: Noel Tenga*, Willy Philemon, Lukas John and Mike Mussa*
TEAM #3: Ray Gervas*, Alex Bazili, Haji Mtunguja* and Big Mussa
TEAM #4: Danny Ezekiel*, David Mark, Hassan Mussa* and Sweetbert Dagobert
TEAM #5: Fulgence Kennedy*, Wilfred Shoo, Elibariki Walter and Stella Makundi
If you want to give generally to the campaign and not a particular team you can visit the main fundraiser page and click on "donate."
---
Pssst: Our Executive Director, Brian Singer, will also be running on this day in Tanzania to further the cause of raising awareness and funds for Project Zawadi!