Travel to Tanzania, Run a Race & Support Project Zawadi!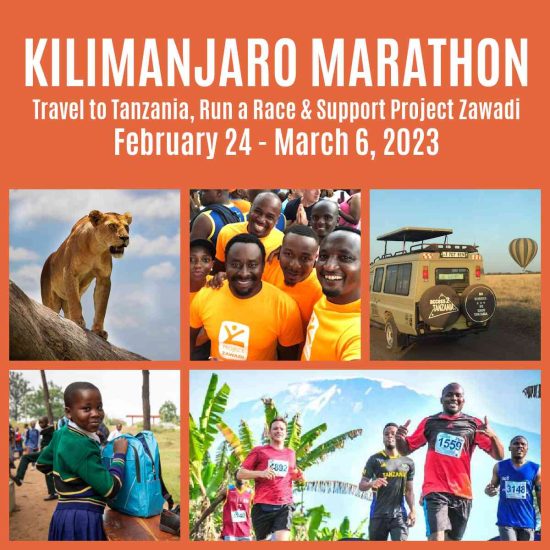 You can travel to Tanzania for a unique and very fun Marathon (or Half Marathon or 5k) in the foothills of Mt. Kilimanjaro. After the race, enjoy an amazing 5-day wildlife safari followed by 2 nights in Nyamuswa Village for an up-close look at Project Zawadi's educational programs. The journey is capped with a 5k Fun Run with Project Zawadi students and nearby community members.
The safari includes visits to some of Africa's greatest wildlife parks including the Serengeti, Ngorongoro Crater and Tarangire National Park. To the west of the Serengeti lies Project Zawadi's partner community of Nyamuswa. It is in this rural community that you will participate in a 5k Fun Run with Project Zawadi students and other community members. 
During the visit to Nyamuswa, you will visit one of Project Zawadi's Model Schools to learn about the innovative ways that PZ is empowering local communities, teachers and schools to dramatically improve education for generations to come. There will also be a village tour to learn about the history and culture of the area.
Net proceeds from the trip will be donated to support Project Zawadi's water projects. The travel group will be hosted in country by Project Zawadi's Executive Director and Founder, Brian Singer.
---
For general information on travel in Tanzania, please visit the Access 2 Tanzania website and explore the Planning Tools section of the website for common questions. You can also reach out to Brian Singer (bsinger@projectzawadi.org) to learn more about the trip and the village experience.