Letters from Sponsors to Students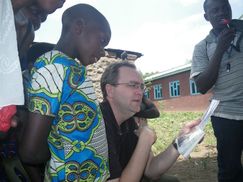 We are often asked if it is appropriate for sponsors to send a letter directly to their sponsored student(s).  The answer is a resounding yes!  The children love to hear from you and very much appreciate receiving personal notes from their sponsors.
What about a gift?  This process has evolved over the years and we have come to the conclusion that equity in the gift receiving process is very important to our students.  To that end, we will be providing pre-made gift bags to all of our sponsored students.  
We will be asking all of our sponsrs to underwrite their student(s) gift bag and consider underwriting additional bags for students who do not have a one-to-one sponsor.
Each January, Project Zawadi visits Nyamuswa village to do an annual site visit.  This visit corresponds to the beginning of the new Tanzanian school year and Distribution Day events where students gather to receive their school uniforms, books and supplies.  This year, Brian, our Program Founder and President, will be visiting the village for Distribution Day.
Brian is happy to carry with him and hand deliver a personal letter and/or photos from sponsors to their sponsored student(s).  We invite all sponsors to take advantage of this opportunity to send a personal note to compliment the pre-made gift bags.
Pre-made Gift Bags for Project Zawadi students include: 

• 24 pack of Crayons

• Dual Blade Barrel Pencil Sharpener

• 3-Ring Pencil Pouch

• Child Toothbrush

• Toothbrush Cap

• 3 oz Toothpaste

• Comb

• 3 oz Fresh Scent Soap

• 2 oz Hand/Body Lotion

**NEW THIS YEAR** Grade Specific Math Flashcards or Student Dictionary 
STEP 1: Decide if you would like to underwrite a pre-made gift bag for your student(s) ($5 per gift bag) and/or send a personal letter.
STEP 2: Please mail your student letter and/or gift bag payment by Monday, January 8. Print out this form to underwrite gift bags and send with your letter(s).
STEP 3: Spread the love.  Feel free to purchase extra gift bags for students who do not have a one-to-one sponsor.
Please mail letters/photos and gift bag underwriting by January 8 to:

PROJECT ZAWADI

253 DUKE STREET

SAINT PAUL, MN 55102
PS.  If you have not yet renewed your sponsorship for the 2018 school year, you can do so here:
http://tinyurl.com/networkforgoodPZ
. Please indicate that your donation is for "Sponsorship" in the designation field. You can also add the gift bag underwriting to your sponsorship renewal.  (Example $200 for Sponsorship + $5 for gift bag = $205 total)
PPS. If you are a new sponsor and haven't yet been assigned a student, we will be contacting you soon with new student information.