Primary schooling is universal, compulsory, and free in Tanzania, but there are a number of reasons why many students attend sporadically or dropout altogether.
Some of these reasons include:
Cost of required uniforms, textbooks, and school supplies are a burden on the family
Desire for a child's labor at home or on the farm
Long distances / time required to travel to schools
Belief that school will not benefit the child
Belief that even if they complete primary school that secondary schooling is financially out of reach
Sponsorship Program
Project Zawadi's Sponsorship program seeks to address these obstacles by partnering with students' families, communities, and schools to:
provide the neediest students with the uniforms and school supplies they need to attend school.  Students are chosen by their communities through a rigorous sponsorship selection process.
ensure that there is time and space at home to study.  Families agree to ensure that their children attend school regularly, allow Counselors to visit their child at home and at school to track their progress and trouble-shoot any issues that may impact the student's ability to attend school and learn, and to make school a priority.
provide mentoring and support such as academic and career counseling to demonstrate how their school efforts can help them in attaining their goals.
empower students with the knowledge that as long as they are working hard and succeeding, their higher level schooling costs will be covered.
Individual Sponsorship
Project Zawadi donors can support an individual student as they pursue their education.  The cost of supporting an individual student is $240 per student per year.  Project Zawadi makes a long-term commitment to our students, thus we also ask individual sponsors to commit to supporting their student for multiple years as well.  In shared photos, and letters you will be able to learn a bit about each other and see the difference sponsorship makes as the student progresses from year to year.
Sponsored students at the primary level receive the following standard resources to support their education:
2 sets of school uniforms
2 pairs of shoes
textbooks for their grade level
10 notebooks, pens, and pencils
a book bag
a solar-powered lantern (Standard 6 and above)
reuseable menstruation kits (girls, Standard 6 and above)
all school and exam fees
As students advance through secondary, tertiary, or vocational levels,  the resource needs for these programs are properly fulfilled.  Often this will include room, board, living and travel expenses for schools outside the village area, and specialized items or equipment as required by  individual programs of study.
Individually Sponsored students receive the following resources
Communications
Letters
Sponsored students write a letter to their sponsors at least once a year. This yearly letter will consist of an age-appropriate note directly from the student, translation of the note (for younger students), and/or a drawing from the student. A current photograph and an update on the student's progress and other Project Zawadi activities in the community will also be included.
Sponsors are welcome to write to sponsored students and indeed they are probably very curious about you and your life! The children most often like to hear about family members, work, and normal daily activities.  Photos of sponsors and their families are especially appreciated.
Communication does require some level of patience. Nyamuswa is a rural community and at most schools the main means of transportation are by foot and bicycle with mail being delivered sporadically.
If you wish, you may communicate with your students by sending mail overseas (ensure that the student's first and last name and the school are indicated prominently on the envelope).
Project Zawadi
Attn: Student first and last name (school)
PO Box 10955
Arusha, Tanzania
EAST AFRICA
*NEW* Because mail to Tanzania can be slow and unreliable you also have the option of sending communications electronically. If you'd like to reach out to your students electronically, e-mail notes and pictures to sponsorship@projectzawadi.org.  They will be printed at our office in Nyamuswa, translated, and distributed to your student the next time a staff member visits their school.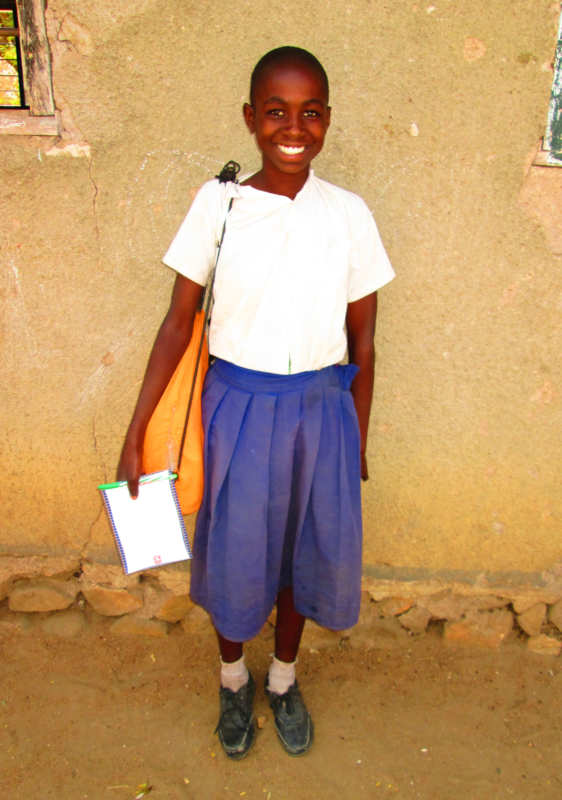 Gifts:
Project Zawadi provides an education-themed gift to all sponsored students for the holidays. Each November, sponsors are invited to send a letter to their sponsored students to be delivered with the gift. At the time of sponsorship renewal, sponsors can also make a donation to offset the cost of these gifts or make a donation to Project Zawadi in your sponsored student's honor. These donations will be dedicated to help fund needed improvements to the schools where Project Zawadi students study. In this way, your donation is a gift to your student and all of his or her schoolmates.
Additional gift-giving should be done thoughtfully as it can create discord and hurt feelings among sponsored students when some of them receive gifts from their sponsors and others do not.  If you do wish to send individual gift items to your student, please be sure that your package is small, light, and has low-cost contents (ie. stickers, candy, children's books, etc.) with a total value of under $20.   Please note that the postal system in Tanzania is not always reliable. Some packages never arrive at their destination, arrive opened or with items missing, or have customs fees that must be paid by Project Zawadi in order to receive the package.
Sponsors should never send money directly to sponsored students.
Note: due to Covid-19 and uncertain travel of US-based staff to Tanzania at this time, we are not carrying over gifts or letters to students at this time (12/23/2020).
Electronic Communication:
Project Zawadi does not allow direct communication via phone, email, text messaging, or social media between students and their sponsors due to privacy and safety considerations.  However, staff can occasionally deliver messages from sponsors to their sponsored students in the course of their routine visits to the schools.  Sponsors can direct their messages to sponsorship@projectzawadi.org and should include their student's name and school in the subject line.