The majority of PROJECTZAWADI students are from small villages surrounding the market centers of Nyamuswa and Mugumu.  These two isolated, rural communities are located in northwest Tanzania between the Serengeti National Park and Lake Victoria.
NYAMUSWA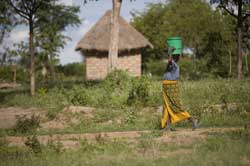 PROJECTZAWADI got its start in Nyamuswa, a village of about 6,000 people in the Bunda District of Tanzania's Mara Region. Few international organizations work in this part of northeastern Tanzania, located at the crossroads between the cities of Mwanza, Musoma, and Arusha, about 22 miles (35 kilometers) from Lake Victoria.  Nyamuswa is the capital of Chamriho Division which includes 29 surrounding villages, some as many as 8 miles away, where many PROJECTZAWADI students attend school.
In 2000, a very new and local non-profit organization (Zinduka) asked PROJECTZAWADI to sponsor students in Nyamuswa.  We agreed partly because Brian Singer had lived in Nyamuswa for two years as a Peace Corps volunteer and personally knew three of the Zinduka board members.  During annual (and usually twice annual) visits to Nyamuswa we have been repeatedly impressed with what has been accomplished by Zinduka. We have also taken the opportunity on these visits to tweak and improve our program so that it is the best it can be; using all funds efficiently and making sure that every student has the opportunity to reach their best in life and attain self-reliance.
MUGUMU
PROJECTZAWADI began work in Mugumu in late 2006 at the request of a New York Quaker group.  The Quakers had been doing independent work in the area and were attracted by PROJECTZAWADI's program model and achievements. Located approximately 75 miles (120 kilometers) to the east of Nyamuswa,  also in the Mara region, Mugumu is capitol of the Serengeti District and a town of about 12,000 people.