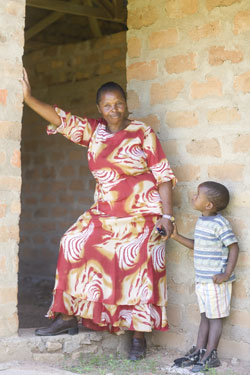 All PROJECTZAWADI students start their sponsorship in primary school.  Selected by their local communities based on their need and in accordance with PROJECTZAWADI's selection criteria, the primary school program is the heart of our programming.
The Tanzanian school year runs from January through December.  Each year at the annual Distribution Day in mid-January, the 135 primary students in the PROJECTZAWADI cohort receive all of the required materials to attend school.
Each primary student receives:
2 sets of the school uniform
2 pairs of shoes and socks
the required set of textbooks for their level of study
school supplies such as notebooks, pens, pencils, etc.
a backpack
payment of applicable school and examination fees
a solar lantern for evening study (students in Standard 5 and above)
In addition to these material supplies, with PROJECTZAWADI's support, caring adults also visit with them regularly to help them thrive academically and personally. PZ Counselors and Guardian Teachers support students day-to-day while local partner staff and volunteers further monitor students' well-being and connect them as needed with additional academic and health services.  PROJECTZAWADI students have excelled with our support!
At the end of primary school (Standard 7 or the rough equivalent of 7th Grade in the United States educational system), all students face a rigorous national examination.  Those students that pass the examination are eligible to continue on an academic path to secondary school.  Those that fail have come to the end of their academic careers.  PROJECTZAWADI works with these students to identify a suitable vocational program to provide training in the trades and build life skills which enable the student to attain self-reliance.