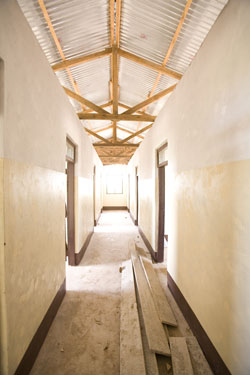 Virtually every primary school in rural Tanzania has a deficiency in classrooms, desks, and/or teacher's housing, personnel and teaching/learning aids.   PROJECTZAWADI is committed to working with our local partners to enrich students' academic environments through a variety of construction, training and supply purchase projects.
To date, PROJECTZAWADI has provided support to fund a wide variety of capacity building projects including:
Construction of 9 classrooms
Construction of 2 teachers offices
Construction of 2 teacher's houses
Construction of 3 dormitories
Construction of a Vocational Training Centre in Nyamuswa
Construction of a preschool
Construction of 10 student toilets
Two professional development workshops for teachers
English-intensive workshop for entering secondary students
Provision of classroom desks
Provision of classroom reference books and textbooks
Provision of teachers guides
Electrification of a secondary school
Outfitting a computer lab with 10 computer stations, a computer projector and instructor laptop
Provision of advanced carpentry tools and sewing machines for vocational programs
Many of the above projects have been made possible through special fundraising initiatives spearheaded by our fabulous supporters.