Newsletter Spring 2009
Newsletter Spring 2009 – Online Supplement
News from Tanzania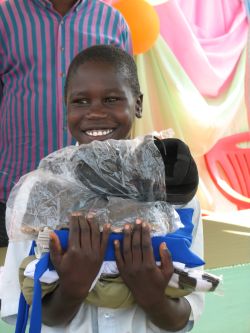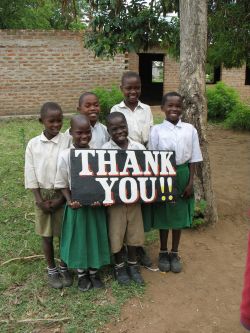 In January, I accompanied Brian Singer on one of his semi-annual visits to Project Zawadi's partners and students in Tanzania. We met with the two community groups that Project Zawadi partners with in the villages of Nyamuswa and Mugumu, and I was (thankfully) able to resurrect a lot of Swahili from my Peace Corps days, some forty years ago. We also met with most of the children and schools we help.
My visit evoked surprising and conflicting feelings. I had never been to northwestern Tanzania before, and I was surprised at how difficult daily life here can be. The villages are too far from Lake Victoria to take advantage of it, and they're isolated from the rest of Tanzania by Serengeti National Park. The local roads are very bad, and while almost everyone here is a subsistence farmer, there's no good cash crop. For most of the year, water is scarce. There are many school-age kids but not enough classrooms and teachers. Many of the primary school classrooms have dirt floors, no windows, no desks, and have to make room for 90 kids at a time. The need can seem overwhelming.
But I noticed something undeniably positive, something that makes me realize how important it is that Project Zawadi keep working: Among the adults and the kids here, there is an incredible spirit of hope, cheerfulness, and making-do. The students we help are appreciative and serious about getting an education.
Let me share some details from my trip. Zinduka, our long-term partner organization in Nyamuswa, is doing an excellent job of not only managing our education program, but also leading the community to improve everyone's quality of life and prospects for the future. Max Madoro, Muse, and the other leaders of Zinduka are doing great work. For example, they've started a micro-finance lending group that now has 850 women enrolled, and they've constructed a community building and health center, mostly with community labor and some assistance from another U.S. group. The building, which doesn't yet have electricity or furniture, will soon include a library and a computer training center. A rainwater capture system uses gutters and a large storage tank to provide water for the building, a model for others who need a relatively inexpensive way to get clean water.
In Nyamuswa, we saw our sponsored kids receive their supplies for the year. It was quite a sight! Several hundred school kids streamed into Nyamuswa from their homes, some miles away, to receive their supplies. That day, each one received a package with his or her name on it. Their supplies included two pairs of shoes – so important when you walk to school every day – two school uniforms, underwear and socks, a book bag, notebooks, and pens. By now, they also have received their textbooks.
After the distribution at Zinduka's office, there was a ceremonial distribution of supplies by a local government official; leaders of each of the five local villages were in attendance, and Brian and I were honored guests. But the real stars were the kids: In the picture on this page, one of the school kids is receiving his school supplies, and I'm sure you can see the appreciation and happiness in his face.
In Mugumu, we met with the leaders of Okoa, the community organization we work with there. We visited the two schools where we sponsor children in cooperation with Great Lakes Region Education Committee, a New York-based Quaker group. The distribution of school supplies was still a week or so away, so we visited with the students, who were appreciative and cheerful. In this picture of six of the 85 primary school students you helped sponsor at Kisangura Primary School, you can see their huge smiles and a sign that says, "Thank You." We also visited other schools in the area where we hope to expand our program, sponsoring even more kids and improving some really dreadful classroom facilities.
Although the need in Tanzania and many parts of Africa may seem overwhelming, I saw firsthand that Project Zawadi is making a huge difference in the lives of the almost 400 orphans and students it sponsors. Thanks to Project Zawadi and its supporters, they're staying in school, and getting a chance at a better life.
Another good thing Project Zawadi is doing is harder to measure but equally important: By working with community groups and sharing resources, Project Zawadi supports them as they lead their communities to prosperity and self-reliance. These local groups are demonstrating to their communities that they can improve their lives through self-reliance and their own hard work and inspiration.
Project Zawadi is not going to solve all of the issues in Tanzania. But you and others enable it to make a real difference in the lives of our students and in their villages by providing opportunity and hope, and they in turn can make a huge difference in the future. Thank you.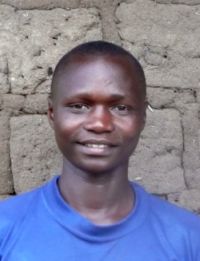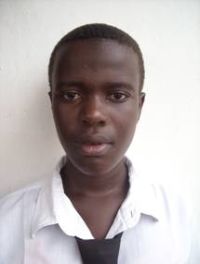 Since their parents died, Stanislaus (left) and his two sisters have kept up their small farm with the help of neighbors and relatives. All three children are in school now, thanks to Project Zawadi.
A few years ago, when founder Brian Singer visited PZ's program in Nyamuswa Village, Doris, Stanslaus and thier mother came to see Brian. Their mother, dying of AIDS, pleaded with Brian to give them a chance for a better future. After their mother's death, a neighbor provided a home for them and Project Zawadi started sponsoring Doris and Stanslaus to attend school. Inspired by our promise, Doris studied incredibly hard and now attends high school and even sleeps in the dormitory that we helped to build at Makongoro Secondary School. Today Stansluas is in vocational school.
Recently, journalist Liz Tascio, visited Nyamuswa and met up with Stanslaus and spoke with him about how he and his siblings are doing today…
More to come.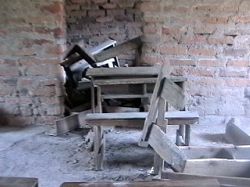 On May 1, 2009, Peter & Colleen Sheehan along with their friends and family gathered at Maloney's Pub in Chicago to raise funds to re-build classrooms in Mugumu Tanzania. The 2009 Suitcase Party was a resounding success, raising $10,000!
Kibeyo Primary School in Mugumu, Tanzania has a severe shortage of classrooms and teacher's offices. It's quite common for some classes to be held outside under a tree. When it rains, some classes must be cancelled. Most of the classrooms that do exist are in bad condition – most with dirt floors, no desks and crumbling walls, windows and blackboards. Consistent with past PZ construction projects, the parents at Kibeyo are eager to provide the manual labor required to make bricks, haul sand, stones and water and dig the foundation for this project.
There are three classrooms at Kibeyo Primary School in such disrepair that the school will not allow classes to be held in the buildings for fear the roof might collapse on the children.
To repair these classrooms and make them suitable for teaching the following repairs need to be made:
Walls need to be repaired and cemented
Dirt floors will be replaced with cement
Install new timbers and tin roofs
Install new windows
The repair of these three classrooms will cost the same as constructing one new classroom. The community has already come together to gather sand and stones needed to make additional mud bricks and will provide a majority of manual labor in-kind to help move this project forward.
Let the rebuilding begin! We will keep you posted on the progress of this constuction project.